ABOUT MISS ALI'S STAGE SCHOOL
Established in 2005, Miss Ali's Stage School is one of Irelands leading stage schools. Situated in the prime location of Dundrum Town Centre, Miss Ali's studios combine state of the art facilities with the most committed and experienced teachers who are dedicated to helping your children realize their potential and develop as a performer. Children will advance in all areas of performing arts in the most creative , imaginative and inspirational space.
Step inside the wonderland of Miss Ali's studios. This unique and magical space is a place where dreams are realized and talent is nurtured and developed.
Miss Ali's Team
Attention to detail is a priority within our team. Our mission is to provide our students with the highest quality tuition. With our small class sizes of just twenty students per group, we can provide individual attention to each of our students for maximum results.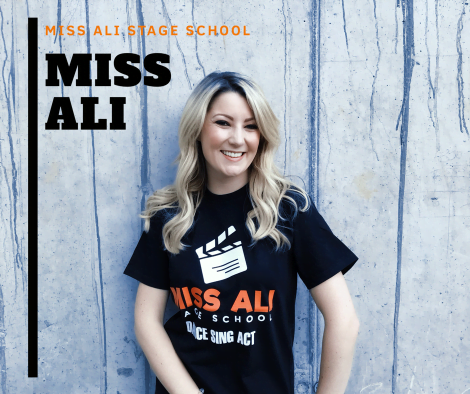 Miss Ali

Full Name: Alison Vard Miller
What I teach: Musical Theatre, Jazz, Commercial, Beginners Ballet, Speech and Drama, Stage and Audition Technique, Vocal and Performance
Performance Credits: Hello Dolly Gaiety Theatre, Boots TV Commercial, Vocalist for Ireland at the Eurovision in Malmo and Ukraine, Backing Singer for Pixie Lott, Footloose, Fame and Hair the Musical, Irish Ferries Tour, Pantomimes Puss in Boots, Cinderella and Bugsy Malone in Olympia Theatre, Irish Nights Taylors Three Rock, Rebecca Storm Tour, Ulster Bank TV Commercial, The Mansion House Christmas Cabaret, Ray Darcy and "umpteen" performance on the Late Late Show and Toy Show.
My Training: Mountview College London, Gaiety School of Acting, Royal Irish Academy of Music, Irish Board of Speech and Drama, Maeve Widger's, Multiple Stage Schools!
Favourite Quote: Everything happens for a reason
Teaching Goals: To build confidence in people for them to stand proud as who they are, to focus on impressing nobody else only yourself, to find the fun on stage and discover the magic of performing arts
Favourite Hobby: Writing Songs, Cooking, Sewing, Watching Movies, Reading Books, Art and Crafts, Drinking Coffee, Theatre Trips, Planning, Travelling and Sleeping!
Would Most Like to Meet: Adam Sandler
Favourite Musical: The Lion King
Best Song Ever: Adiemus
Favourite Holiday Spot: New York City
Best Memory: Sky Diving
Best Present Ever Received: An Art Easel from my Grandad Max with Oil Paints and Acrylics
Favourite Character: Princess Fiona from Shrek
Can't Wait For: Christmas to decorate the Miss Ali #NEWHOME like a Magical Wonderland!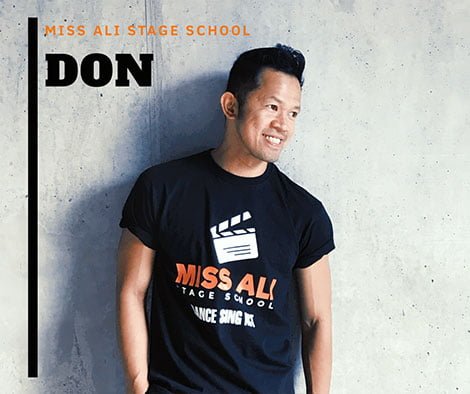 Don
Full Name: Don King Rongavilla
What I teach: Street Dance, Commercial, Hip Hop, Break Dance, Zumba and Acrobatics.
Top 3 Performing Credits: Dance Masters Choreographer of the Year 2011, Centenary 2016 at the Bord Gais, Pope Francis World Meeting of Families
My Training: Self taught dancer. Discovered at 16 on Philippines variety afternoon TV show. I worked with Cois Ceim Contemporary, Monica Loughman- Ballet, WDSF- Ballroom and Latin. Head Coach for Ireland Youth Olympic Games Breakdancing.
Favourite Quote: "No act of kindness, no matter how small is ever wasted"
Teaching Goals: To make my students perform better than me.
Favourite Hobby: Acrobatics
Would Most Like to Meet: Jackie Chan
Favourite Musical: Hamilton
Best Song Ever: Amazing Grace
Favourite Holiday Spot: Majorca, Spain
Best Memory: Meeting my baby daughter Mia.
Best Present Ever Received: Dylan Blue Versace
Favourite Character: Spider Man
Cant Wait For: To work with the Miss Ali Stage School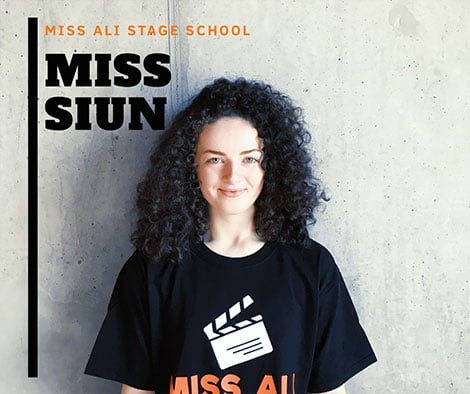 Miss Siun
Full Name: Siun O' Kane
What I teach: Dance
Top 3 Performing Credits: Natile, A State Affair, Bernie Grant Arts Theatre, Paul Foster Ensemble, 80 Days Around The World, Bernie Choral, MadTrust Concert, St. Paul's Church, Emma Hatton.
My Training: Musical Theatre Ireland,
1 year The Centre Performing Arts College, Kent
1 year Musical Theatre Academy, London
Favourite Quote: "You're never fully dressed without a smile"
Teaching Goals: To teach all my students not only steps to a routine but a skill set of ownership, commitment and authenticity that they can take with them outside the classroom.
Favourite Hobby: Swimming
Would Most Like to Meet: The Queen
Favourite Musical: Wicked
Best Song Ever: Somewhere over the Rainbow
Favourite Holiday Spot: Belfast
Best Memory: Walking the Great Wall of China.
Best Present Ever Received: Tickets to Amsterdam
Favourite Character: MC- Cabaret The Musical
Can't Wait For: My new Chapter at the Miss Ali Stage School.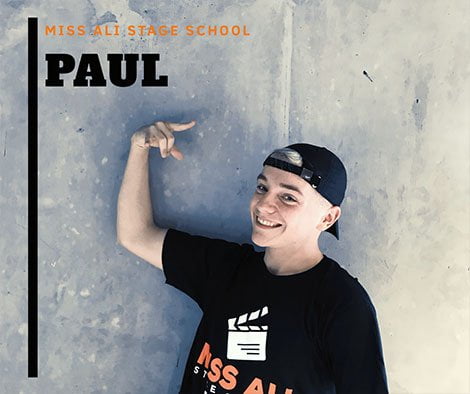 Paul
Full Name: Paul Tyrell
What I teach: Dance including Vogue, Dancehall and Whacking.
Top 3 Performing Credits: Gold Medalist in HHI 2018.
My Training: Still training with the top dance crew in Ireland
Favourite Quote: "Practise doesn't make perfect… Perfect Practice makes perfect".
Teaching Goals: Teach my choreography all around the world and create new shows wherever I go.
Favourite Hobby: Dance
Would Most Like to Meet: Rihanna
Favourite Musical: Matilda
Best Song Ever: MotorSport Nicki Minaj
Favourite Holiday Spot: Malaga
Best Memory: Winning Gold at Hip Hop International
Best Present Ever Received: A Trip to London
Favourite Character: Britney from Glee
Cant Wait For: Crew Competitions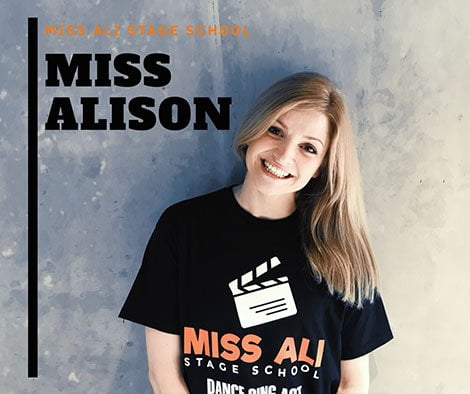 Miss Alison

Full Name: Alison Denan
What I teach: Drama, Theatre Studies, Musical Studios, Vocal Coaching.
Top 3 Performing Credits: 6 Tv Commercials, Elsie in 'Freezin' Olympia Panto, The Late Late Show.
My Training: Master's Degree in Theatre Practice UCD, Bachelor of Education (Primary School Teacher), Advanced Performance Year GSA
Favourite Quote: Feed your Brain!
Teaching Goals: To foster a life-long love of the Arts with innovative and fun lessons, boost confidence and enable each child to reach their full potential.
Favourite Hobby: Besides theatre, theatre and MORE theatre? Drinking coffee, singing, reading, art and cuddling my dog Penny- preferably all at the same time!
Would Most Like to Meet: Laura Osnes or Carrie Fletcher
Favourite Musical: Wicked
Best Song Ever: Anything from Postmodern Jukebox
Favourite Holiday Spot: South Africa
Best Memory: Seeing my play 'Chambers' being performed for the first time in Smock Alley.
Best Present Ever Received: My Engagement Ring.
Favourite Character: Elphaba
Cant Wait For: The opening of the NEW Miss Ali Stage School!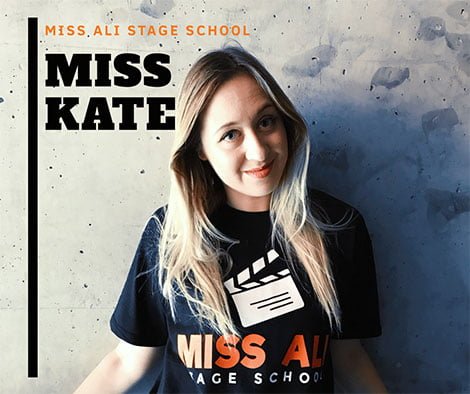 Miss Kate
Full Name: Kate Mulligan
What I teach: Drama
Top 3 Performing Credits: Aurora in Sleeping Beauty (Hong Kong Tour),
Titania in A Midsummer Night's Dream (Hong Kong Tour) and
Carly in Reasons to be Pretty (Galway Bank of Ireland Theatre)
My Training: Ballet- Royal Academy of Dance
Masters in Drama and Theatre Studies NUIG.
Favourite Quote: "If you can dream it. You can do it."- Walt Disney
Teaching Goals: For each student to recognise their own unique and wonderful talents and abilities and surpass what they thought was possible.
Favourite Hobby: Reading (Not including performing arts)
Would Most Like to Meet: Meryl Streep
Favourite Musical: Wicked
Best Song Ever: Whitney Houston- I Will Always Love you
Favourite Holiday Spot: Bali
Best Memory: Going to see the pantomime as a child as I knew at that moment that I wanted a career in performing arts.
Best Present Ever Received: Photo calendar of family and friends I received when I was moving to Asia.
Favourite Character: Elle Woods in Legally Blonde as she surpasses other peoples expectations whilst remaining positive and cheerful.
Cant Wait For: My new Chapter at the Miss Ali Stage School.
My daughter is going into her second year with miss Ali and absolutely adores her. She is dying for classes to start up again in September and can't understand why she can't go during the summer. Miss Ali is super talented, kind and patient, all her students adore her and love her classes.
Deirdre Costelloe
We are very happy with miss Ali and our daughter is happy too. This is the most important thing. highly recommended to all the kids who loves dancing and singing. Professionalism and enthusiasm in only one place. Well done!!
Francesca Appadoo
Miss Ali and her team are fantastic! My daughter loves going to her classes and her confidence has come on wonderfully! I would recommend Miss Ali's stage school to all!
Natasha Walker